Helping you make the best first impression
Parking Lot Maintenance
Appearance and cleanliness are major factors in making the right first impression. We offer complete parking lot sweeping services to help you maintain that certain image you desire for your business or shopping center. Our company maintains a fleet of vacuum sweeper trucks and a dedicated night crew who takes pride in customer service.
Services include: 
Mechanically sweep parking lot
Power blow off sidewalks, curbs, entrances, loading docks, etc.
Pressure washing
Minor asphalt and pothole repairs
Asphalt crack sealing
Parking lot striping
Landscape Maintenance
As a property owner/manager, you know that landscape maintenance is crucial during the growing season. Multiple commercial mowers, weed eaters and blowers allow our mowing crews to manage your lawn. Schedule weekly service and/or year-round maintenance.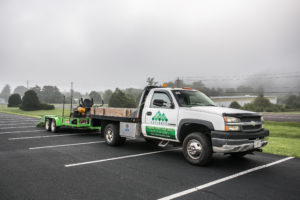 Services include:
Mowing
Shrub and small tree trimming
Mulching
Fertilizing
Year-round trash removal of landscaped areas
Large debris removal
Pressure Washing
Your facility is always under the observant eye of the public and should present a clean and manicured image. Pressure washing will enhance
appearance of walks and entrances where customers and employees enter each day. Our hot water pressure washing system is the answer to removing those hard to clean stains and gum left in high traffic areas, leaving a great "first impression".
Services include:
Sidewalks
Front entrances
Trash receptacle areas
Buildings
Driveways
Snow Plowing and Ice Control
Tracking weather conditions is imperative to managing snow removal services. Our snow team coordinator closely monitors these elements. A fleet of eleven snow plow and salt trucks, stock-piled ice control salt, and employees on-call to be ready at a moment's notice, enable our company to provide snow plow and ice control services so your business remains safe and accessible.
Snow Plow
Ice Control
Pre-Treatment
For your convenience we offer several pricing options:
Seasonal pricing – a fixed price for easy, no-headaches budget control
Event pricing – a variable price based upon specific snow levels
Per-push pricing – an hourly rate based upon services provided
Facility Maintenance
We are that  "One Phone Call" service you have been searching for. In-house technicians and specialty contractors are available to handle any repair or project your shopping center or business requires.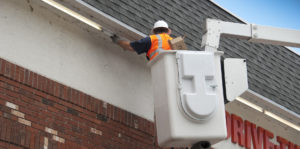 Repairs or Project services include, but not limited to:
Plumbing
Clear drains and lines
Install or replace plumbing fixtures
Electrical
Replace bulbs, ballasts
Install or replace fixtures
General
Painting (interior/exterior)
Small remodeling/tenant renovations
Ceiling repairs (tile and grid)
Flooring installation and repair including VCT, tile, wood and carpet
Concrete/masonry repairs
Power washing
Roof repairs
Handyman Services
Contact Us Today to Get a Free Estimate